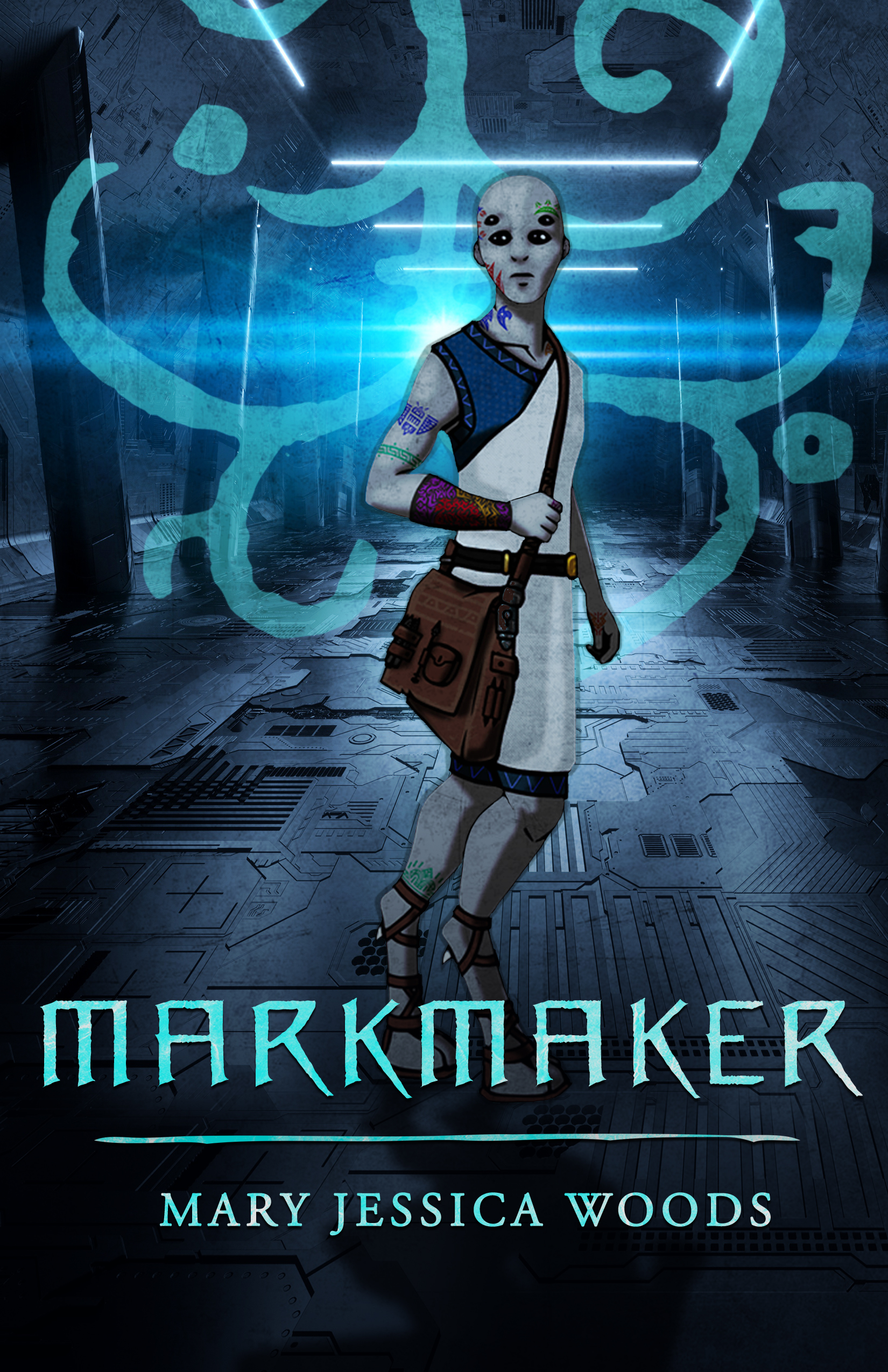 Markmaker
A Sci-Fi/Fantasy Novel
He swore to paint the truth. Now he is living a lie.
For the Noxxiin people, tattoos define identity: they commemorate birth, ancestry, accomplishments—even crimes. As a tattoo artist living on an ancient generation ship, Mariikel Serix has sworn to record the truth. So when he becomes an unwilling accomplice in the banishment of an innocent man, he is horrified that he has broken his oath—and his eyes are opened to the misery of the Underbelly, the realm of the outcasts.
Despite the risk to himself, the young markmaker begins secretly helping the ship's exiles. But more trouble is brewing. The Serix guild, which regulates the ceremonial tattoos, engages in a power struggle with the Ascendance, a domineering political faction—and the conflict threatens to destroy the fragile peace among the Noxxiin clans. Amidst this discord, an enigmatic artist named Haza'ruux singles out Mariikel to be his apprentice, for hidden reasons of his own. As Mariikel ventures deeper into a maze of political strife and ancient clan secrets, he realizes that his pursuit of justice may not only cost his reputation—it may cost him his life.
Advanced Praise
Mary Jessica Woods has built out an imaginative sci-fi world in which questions of identity, birth, and death cannot be ignored, as we so often do in ours. I read it start to finish, from the underbelly of the ship to the glowing marks of power, and was sad when it ended. Here, for those with eyes to see, the truth is traced out as surely as an invisible mark upon the heart.
—Father Michael Rennier, Dappled Things Magazine
A mesmerizing debut! Markmaker explodes the highest potential of sci-fi, uniting a vivid and intricate alien world, full of poignantly real characters, with deep, lingering themes. Kaz'valiim, Mariikel. I hope we meet again.
—Eleanor Bourg Nicholson, author of A Bloody Habit and Brother Wolf
Markmaker is an extraordinary first novel, beautifully plotted and elegantly written. From the first pages, it engages the reader in the struggle of its young narrator with the contradictions of a world that has lost—and not only literally—the gravity of its great past. Woods begins with a simple premise: suppose tattoos were not personal expressions, but symbols with the whole force of the law behind them, and suppose that instead of being a "tattoo artist," the markmaker occupied an almost priestly role while the marks themselves bore an almost sacramental power. Without a trace of pretension, the story is a parable of what it means to wear our deeds publicly as our justification before others, and also what it means when malice and power distort these visible signs and subject the innocent to injustice. Woods takes the reader into scenes that are deeply moving in the confrontation between mercy—literally, a transgression against the strictness of the codes—and the misery of an exile and humiliation as palpably abject as leprosy. The characters of the closed world of the ancient ship spring to life in all their dimensions, and in the gathering complexities of the plot, the challenges to the constructed hierarchy expose the limitations we both inhabit and enforce upon other. This book is a vivid accomplishment: it makes its reader feel the presence of greatness, first as a mere rumor, and then as a reality earned and enacted.
—Glenn Arbery, president of Wyoming Catholic College, and author of Bearings and Distances and Boundaries of Eden
Mary Woods weaves a riveting story of an unlikely alien hero who flaunts the restraints of his unusual culture, and while doing so, holds up a mirror to fallen humanity. I couldn't put it down. Any true lover of science fiction has to read this book.
—Ann Margaret Lewis, author of Murder in the Vatican: the Church Mysteries of Sherlock Holmes and Star Wars: The Essential Guide to Alien Species
Markmaker opens as science fiction but slowly and surreptitiously moves into the realm of the fantastic. The result is a rare achievement, science fiction that retains a sense of ultimate wonder about the world.
—Jeremy Holmes, Associate Professor of Theology, Wyoming Catholic College, and author of Cur Deus Verba: Why the Word Became Words